"Revolutionize Your Warehouse" by Somil Nishar Reveals Pragmatic Strategies for Warehouse Management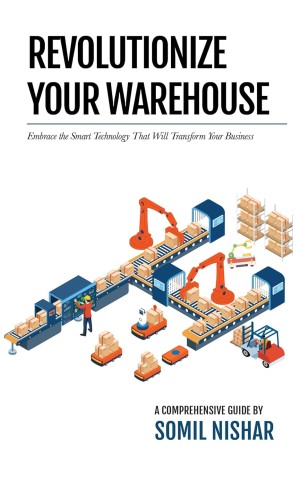 Somil Nishar, a seasoned professional in automation engineering and a lead figure at Quality Design Services, Inc., has announced the launch of his latest book, "Revolutionize Your Warehouse: Embrace the Smart Technology That Will Transform Your Business." Unlike typical narratives on warehouse management, Nishar's book takes a pragmatic approach, offering actionable insights grounded in real-world experiences and observations.
The book, a comprehensive guide to the changing landscape of warehouse management, places a spotlight on the integration of smart technologies such as the Internet of Things (IoT), Artificial Intelligence (AI), Big Data analytics, and automation. Nishar draws on his extensive background in automation engineering and his role as a Lead Automation Engineer at Quality Design Services, Inc., where he has overseen and executed intricate projects for over three years.
"Revolutionize Your Warehouse" goes beyond theoretical discussions, providing practical strategies for implementing smart technologies in warehouse operations. With a keen focus on warehouse optimization, demand forecasting, process automation, and data security, the book serves as a valuable roadmap for businesses seeking to enhance efficiency, improve customer satisfaction, and navigate the dynamic world of warehouse management.
What sets Nishar's book apart is its grounding in the author's firsthand experiences. The insights shared in "Revolutionize Your Warehouse" derive not from abstract theories but from the trenches of real-world warehouse management. Nishar's narrative is a departure from the often sensationalized language of industry literature, offering a refreshing and candid perspective on the challenges and successes of integrating smart technologies into warehouse operations.
As Nishar states, "The integration of smart technologies is revolutionizing warehouse management, transforming businesses and enhancing efficiency like never before." The emphasis on tangible outcomes and practical applications distinguishes the book, making it a valuable resource for industry professionals, business leaders, and anyone interested in the intersection of technology and logistics.
"In today's rapidly changing world, embracing smart technology is crucial for businesses to stay ahead, improve customer satisfaction, and optimize warehouse operations," asserts Nishar. The book addresses the pressing need for businesses to adapt to the evolving technological landscape, emphasizing that smart technology is not just a choice but a necessity in the contemporary business environment.
The overarching theme of "Revolutionize Your Warehouse" is the inevitability of embracing smart technology in the modern business landscape. Nishar argues that businesses must adopt these technologies to stay competitive, enhance customer satisfaction, and streamline warehouse processes. The book paints a vivid picture of a future where warehouses operate with unprecedented efficiency and customers experience top-notch service, all thanks to the strategic integration of smart technologies.
In a world where industry literature often overuses hyperbole, "Revolutionize Your Warehouse" stands out for its practical approach, offering a valuable resource for those seeking actionable strategies in warehouse management. Somil Nishar's transition from automation engineering to authorship brings a fresh perspective to the discourse on warehouse management, making his book a noteworthy addition to the literature on this evolving field.
Revolutionize Your Warehouse is now available for sale on Amazon. Users can visit the official website https://www.somil007.com/ for any media or commercial inquiries.
Follow Somil Nishar on Social Media:
LinkedIn: https://www.linkedin.com/in/somil007/
Twitter: https://twitter.com/Somil_N_007
About Company:
Quality Design Services, Inc., based in Novi, Michigan, is a leading provider of automation solutions, and its Lead Automation Engineer, Somil Nishar, brings real-world expertise to the forefront with his groundbreaking book, 'Revolutionize Your Warehouse.
Media Contact
Company Name: Quality Design Services, Inc.
Contact Person: Somil Nishar
Email: Send Email
City: Novi
State: Michigan
Country: United States
Website: somil007.com