Veterinary Molecular Diagnostics Market Is Expected To Reach US$ 1,064.8 Million By 2028 – IMARC Group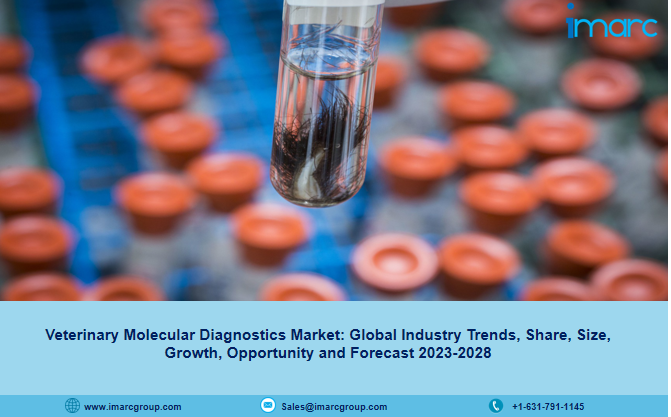 Veterinary Molecular Diagnostics Market: Global Industry Trends, Share, Size, Growth, Opportunity and Forecast 2023-2028
The surging incidences of zoonotic diseases and the rising animal husbandry activities represent the primary factors driving the market growth.
The latest research study "Veterinary Molecular Diagnostics Market: Global Industry Trends, Share, Size, Growth, Opportunity and Forecast 2023-2028" The global veterinary molecular diagnostics market size reached US$ 634.9 Million in 2022. Looking forward, IMARC Group expects the market to reach US$ 1,064.8 Million by 2028, exhibiting a growth rate (CAGR) of 8.8% during 2023-2028.
Industry Definition and Application:
Veterinary diagnostics involves conducting various tests to detect diseases among animals by analyzing samples of blood, feces, and tissues of livestock, wild, and pet animals. These tests rely on a range of technologies, such as polymerase chain reaction (PCR), real-time polymerase chain reaction (RT-PCR), in situ hybridization (ISH), immunohistochemistry (IHC), and gene sequencing. The primary test categories include screening tests that detect diseases in healthy animals and confirmatory tests, which are conducted to determine the disease status of clinically ill animals. As a result, veterinary diagnostics find extensive applications in pathology, bacteriology, toxicology, nutrition, and virology testing centers across the globe.
Request Free Sample Report: https://www.imarcgroup.com/veterinary-molecular-diagnostics-market/requestsample
Veterinary Molecular Diagnostics Market Trends and Drivers:
The global veterinary diagnostics market is primarily driven by the increasing adoption of companion animals and pets due to improving urban lifestyles. Moreover, the rising need for veterinary diagnostic services to detect diseases that humans can contract through pets and livestock, such as zoonotic gastrointestinal diseases, viral infections, tuberculosis, and rabies, owing to surging incidences of zoonotic and foodborne diseases is positively influencing the market growth. Additionally, numerous technological advancements, such as the development of improved immunoassays, biosensors, non-polymerase chain reaction techniques for nucleic acid detection, and proteomics for effective disease diagnosis, have catalyzed market growth. Other factors, including rapid growth in the poultry and agriculture industries, increasing expenditure capacities for the management of animal health, escalating demand for animal-derived food products, and rising incidences of infectious diseases in animals, are also anticipated to drive the market further.
Global Veterinary Molecular Diagnostics Market 2023-2028 Analysis and Segmentation:
Competitive Landscape:
The competitive landscape of the market has been studied in the report with the detailed profiles of the key players operating in the market.
Biochek B.V.
bioMérieux SA
HealthGene Corporation
Heska Corporation
IDEXX Laboratories Inc.
INDICAL BIOSCIENCE GmbH
Ingenetix GmbH
NEOGEN Corporation
Qiagen N.V
Thermo Fisher Scientific Inc.
Veterinary Molecular Diagnostics Inc.
Zoetis Inc.
Breakup by Product:
Kits and Reagents
Instruments
Software and Services
Breakup by Technology:
Real Time PCR
Microarray
DNA Sequencing
Breakup by Animal Type:
Companion Animal
Livestock Animal
Breakup by Disease Type:
Vector-borne Diseases
Respiratory Pathogens
Diarrhea Pathogens
Others
Breakup by End User:
Veterinary Hospitals
Clinical Laboratories
Research Institutes
Breakup by Region:
North America: (United States, Canada)
Asia Pacific: (China, Japan, India, South Korea, Australia, Indonesia, Others)
Europe: (Germany, France, United Kingdom, Italy, Spain, Russia, Others)
Latin America: (Brazil, Mexico, Others)
Middle East and Africa
Key highlights of the report:
• Market Performance (2017-2022)
• Market Outlook (2023- 2028)
• Porter's Five Forces Analysis
• Market Drivers and Success Factors
• SWOT Analysis
• Value Chain
• Comprehensive Mapping of the Competitive Landscape
Ask Analyst for Customization and Explore Full Report with TOC List of Figure: https://www.imarcgroup.com/request?type=report&id=5121&flag=C
If you need specific information that is not currently within the scope of the report, we can provide it to you as a part of the customization.
About Us:
IMARC Group is a leading market research company that offers management strategy and market research worldwide. We partner with clients in all sectors and regions to identify their highest-value opportunities, address their most critical challenges, and transform their businesses.
IMARC's information products include major market, scientific, economic and technological developments for business leaders in pharmaceutical, industrial, and high technology organizations. Market forecasts and industry analysis for biotechnology, advanced materials, pharmaceuticals, food and beverage, travel and tourism, nanotechnology, and novel processing methods are at the top of the company's expertise.
Our offerings include comprehensive market intelligence in the form of research reports, production cost reports, feasibility studies, and consulting services. Our team, which includes experienced researchers and analysts from various industries, is dedicated to providing high-quality data and insights to our clientele, ranging from small and medium businesses to Fortune 1000 corporations.
Media Contact
Company Name: IMARC Group
Contact Person: Elena Anderson
Email: Send Email
Phone: +1-631-791-1145
Address:134 N 4th St.
City: Brooklyn
State: NY
Country: United States
Website: https://www.imarcgroup.com