UAE Based Flyksoft Raises $55,000 in Seed Capital for Its Beauty and Wellness the SaaS Booking Software

Al Messaned, UAE – April 18, 2023 – FLYKSOFT, a UAE-based company that offers SAAS booking software for salons and spas, has successfully raised $55,000 in seed funding from angel investors. This funding will help the company achieve its mission of boosting brand awareness and media presence.
FLYKSOFT innovative platform provides an all-in-one solution for managing salon and spa operations. The software is designed to help businesses streamline their operations by offering features such as appointment bookings, point-of-sale, customer records management, marketing automation, integration with social media, loyalty programs, inventory management, and team management.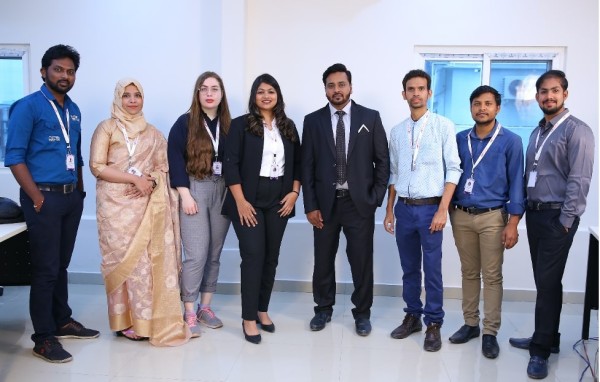 In Picture: Mr. Ibrahim, 5th person from Right
FLYKSOFT plans to launch the first beta version of its SAAS booking software in May 2023 and will begin registering and on boarding clients from May onwards in the UAE and Gulf market. The company aims to be the first salon booking software to offer a competitive pricing range and monthly subscription model.
The first phase of the launch will include the mobile apps for Android and iOS, marketplace, CRM, marketing module, integration module, payment gateways, and staff and booking apps. In the second phase, FLYKSOFT will launch website builder, Accounting and Finance and HR Module.
The founder of FLYKSOFT, Mr. Ibrahim, has been working in the same industry for the last 15 years in the UAE and MENA region. He has worked with many technology partners and consulted with current market leaders in the same segment, providing valuable experience and insights to help build the company.
FLYKSOFT is excited to revolutionize the salon and spa industry by providing a complete solution to simplify business operations and enhance the customer experience. With this seed funding, the company is poised to make a significant impact in the industry and provide an exceptional level of service to its clients.
For more information, visit https://www.flyksoft.com or contact us at [email protected]
Media Contact
Company Name: Flyksoft Solutions LLC
Contact Person: Media Relations
Email: Send Email
Country: United Arab Emirates
Website: www.flyksoft.com