A Promised Land – Journey in Search of Joy through the Music of Handel
A classical music show for kids, part of Creative Europe Programm winning project
Let's Sing Oratorio Music!
December 5th, 2022 – Nuovo Teatro Orione – Rome, Italy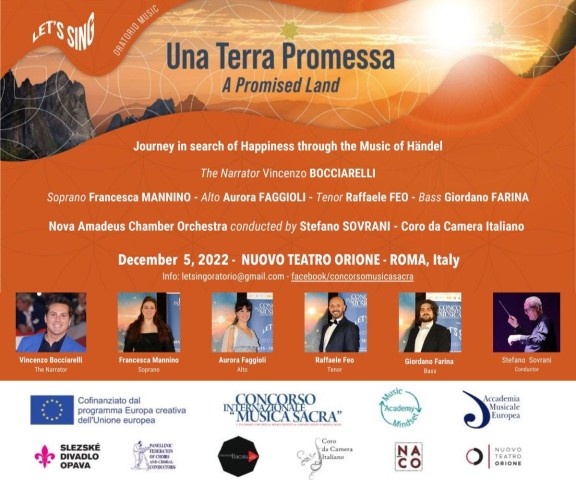 Seeking happiness through the Music of Händel. This is the leitmotif of the spectacle "A Promised Land – Journey in Search of Happiness through the Music of Händel" thatwill be on stage at Teatro Orione of Rome, Italy on December 5 at 10:30 a.m.
The performance is produced by the Accademia Musicale Europea (European Music Academy) under the Artistic Direction of Daniela de Marco, tells of a journey to joy. It is the tale of 4 friends fleeing war to land in the New Promised Land: Europe. The "Four friends" are the winning singers of the Sacred Music International Competition in Rome, Italy: Francesca Mannino – Soprano, Aurora Faggioli – Alto, Raffaele Feo – Tenor and the Bass Giordano Farina.
Their emotions will be narrated by renowned Italian actor Vincenzo Bocciarelli, the Nova Amadeus Chamber Orchestra conducted by M.° Stefano Sovrani and the Italian Chamber Choir.
The performance will contain storytelling, stage movements, evocative lights to fascinate and engage children and kids during their discovery of the Baroque Oratorio Music.
Artistic Director Daniela de Marco says during the press conference, "A promised Land combines the splendor of Handel's music with emotions, beauty and positivity. It convey new cross-curricular knowledge to kids combined with a healthy dose of enthusiasm and optimism. We are having great success in the 4 Nations where we have realized the project. And now we are looking for new Partners to grow this project worldwide."
"The journey to happiness has always been man's purpose and today more than ever it is a metaphor for the times we are living in." adds Vincenzo Bocciarelli.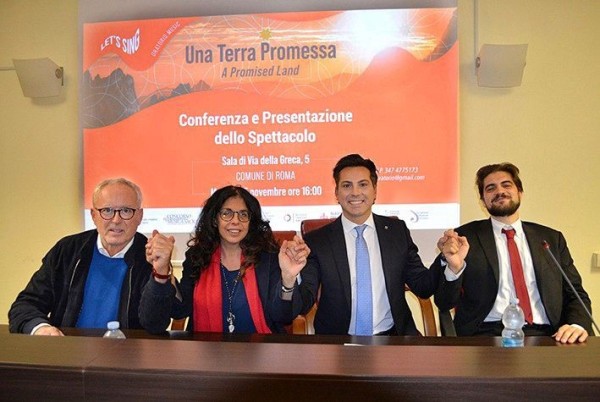 Figure 1 From left: Conductor Stefano Sovrani, Artistic Director Daniela de Marco, actor Vincenzo Bocciarelli, and Bass Giordano Farina during the press conference for the presentation of "A Promised Land"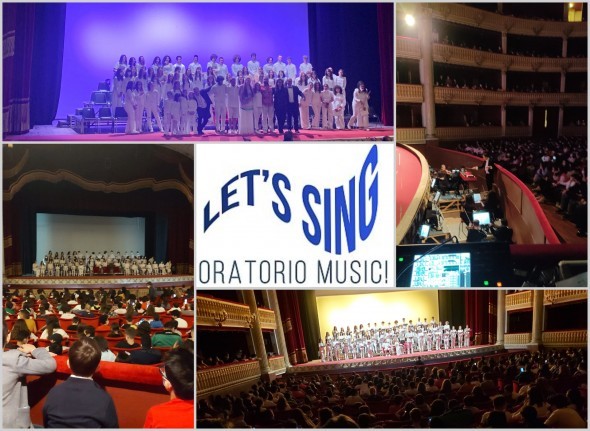 2The other production of Let's Sing Oratorio Music: Haydn's The Creation with hundreds of enthusiastic children and teens (May 2022, Teatro Rendano, Cosenza, Italy)
A Promised Land is part of the European project "Let's Sing Oratorio" winner of Creative Europe Program co-funded by European Union in partnership with Silesian Theater in Opava (Czech Rep.), Philharmonic M. Jora Bacau (Romania) and Panhellenic Federation of Chorus and Choral Conductor (Greece).
Media Details
Facebook: https://www.facebook.com/concorsomusicasacra
Instagram: https://www.instagram.com/concorsomusicasacra/
Youtube: https://www.youtube.com/user/concorsomusicasacra
Twitter: https://twitter.com/SacredMusicRome
Media Contact
Company Name: Accademia Musicale Europea
Contact Person: Daniela de Marco
Email: Send Email
City: Roma
Country: Italy
Website: www.concorsomusicasacra.com